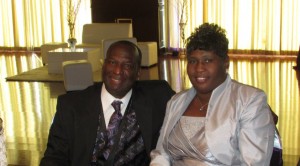 Gary Jones, Senior Pastor of Eagle's Nest Praise & Worship Ministries.  Born and raised in Ft. Worth, TX but later moved to Bryan, TX in 1986 where he later met and married Sheila McGee in 1988. Gary and Sheila have two daughters, Amy and Rachel, with a recent addition to the family, Riley (granddaughter).
Pastor Sheila Jones – a laborer of the Gospel, born and raised in the city of  Bryan, Tx and graduated from Sam Houston State University, Huntsville, Tx with a degree in Sociology & Psychology. Pastor Sheila accepted her calling into the ministry in 1992. As a visionary, I strived to give God my very best and to do my Father's will.  My passion is God's people, saving souls.  As Pastor of Eagle's Nest Praise & Worship Ministries, I am Sunday School Teacher, Bible Study Teacher, Women of Excellence Director/Teacher and I also assist the Senior Pastor during worship service in preaching the gospel as needed.
During the early years of raising our daughters, Gary and I worked as laborers in the vineyard under the leadership of other pastors until God called us into our own work.  In July 1989, we opened the door of our home to become the sanctuary for the body of Christ to began Eagle's Nest Praise and Worship Ministries. From the beginning, we have walked by faith, and not by sight and have seen God move on the behalf of the church many times.  Within 8 months, God blessed us with a building and the ministry is now 15 years old. Over the years, God has blessed the ministry and we are yet striving to allow the word to bring healing and salvation to the souls of God's people. We have accomplished much in the ministry and all Glory and Praise belong to God.  We invite you to come and join us at Eagle's Nest Ministries as we mature into what God would have us to be.
"COME WORSHIP WITH US"